Acoustic solutions.
Our aim is to work with architects, acousticians, clients and office users in a collaborative development process to find solutions that allow maximum design freedom when acoustically optimising rooms. We provide the following services.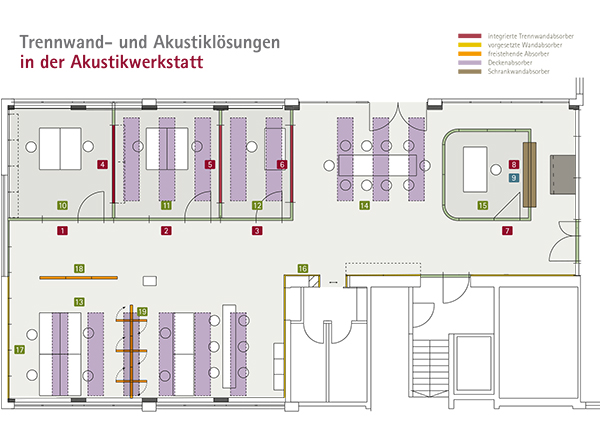 Solutions
Planning support for architects and interior planners
Space planning
Room zoning
3D visualisation
Calculations
Building acoustic calculations
Room acoustic calculations
Acoustic simulation
Acoustic Workshop.
The Strähle Acoustic Workshop is a showroom and a training centre all in one. It covers an area of over 350 square metres and presents an architecturally sophisticated office scene with single, shared and open-space offices as well as room-in-room solutions. In the Acoustic Workshop, you can experience for yourself the possibilities that building and room acoustics can provide. Loudspeakers simulate classic office sounds such as conversations between two or more people. In this way you can compare office and corridor walls with different types of glazing, such as single, double and insulating glass. You can thus compare offices with normal sound insulation requirements and offices with higher requirements. Here you can experience sound insulation and acoustics.
Acoustic workshop the movie!